Beaches
Costa Adeje is the top destination in Tenerife for beaches. From La Caleta to Los Cristianos, thousands of metres of soft sand is ready to welcome your holiday-ready feet. The beaches here are carefully maintained and monitored to keep them in tip top condition.
These are not your standard British beaches.
Expect sunbeds, massages, water sports, beach bars and more to do along the promenade than you thought possible.
But beyond the extensive list of things to do here, there's just something about Costa Adeje beaches that makes them better than any others in the Canary Islands. Their beauty, tranquillity and accessibility is unparalleled.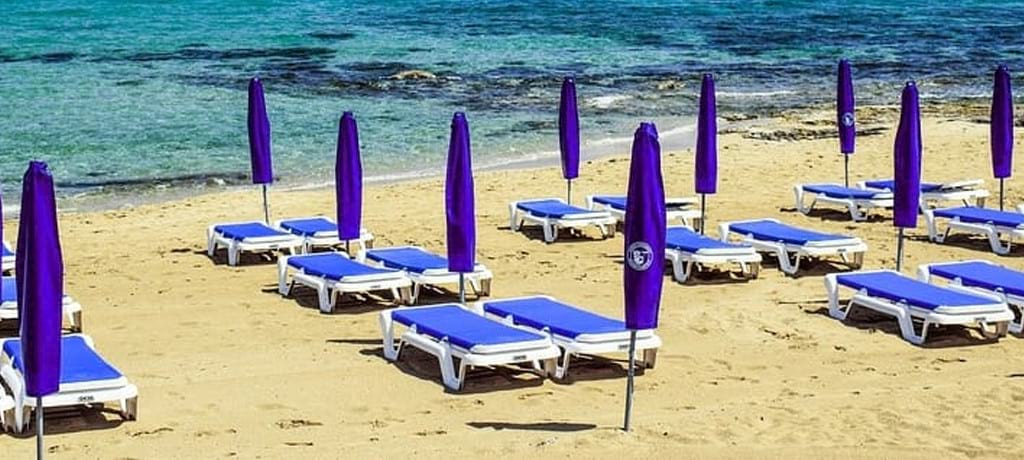 Seaside Safety
The main beaches along Costa Adeje, including the 9 recommended below, are all perfectly safe for sunbathing and paddling by the shore. They're kept clean by beach sieving services that come through most mornings – there's no broken glass or bits of littler to trip you up.
Lifeguards patrol most of the recommended beaches and can be easily spotted. They tend to wear red or yellow (or both) and speak great English.
When it comes to swimming, you're completely safe on Costa Adeje's main beaches. Swimming areas are fenced off from boats and other water activities going on.
Swimming by the unmonitored and rocky beaches is not recommended. There's a reason Costa Adeje is popular with body boarders and occasionally surfers. The waves can be deceptively strong, and the rocky coast edge is not something you want to visit close up. Not to mention there's no protection from boat propellers, fishing nets and other hazards floating around.
The best ways to enjoy swimming in Costa Adeje is to make use of the hotel pool early in the morning or book a boat tour. You can take a boat out to one of the coves or secluded spots along the Adeje coast where you can swim, fish and dive without worry.
Other fun-filled activities worth trying are Parascending in Puerto Colon and Jet-Ski Safari, which is a wonderful way to see the coastline in a more exciting way!
What to Take to the Beach?
First of all, make sure you take a good pair of shoes along with your flip flops. You'll definitely need them for some of the nicer Costa Adeje restaurants along the seafront, plus volcanic sand beaches tend to be quite rough on your feet. Other Costa Adeje beaches tend to get quite busy so be prepared to walk for a while to find a more secluded spot.
You'll also need a towel, even if you don't plan to go in the water, as sunbeds are snapped up quickly and more often than not, you'll need to grab a spot directly on the sand.
Finally, you're going to need cash. Most shops and restaurants will take card, but cash is handy for the beach bars, independent stalls and sunbed fees. Reserve a few coins for the showers and other amenities if they're not free.
Our Top 8 Adeje Beaches
You can easily walk from one beach into another along Adeje without even realising it! Every beach has its unique features that we love, but all have a few things in common. Glorious sand, beautiful weather and crystal-clear waters. Here is the best of the best.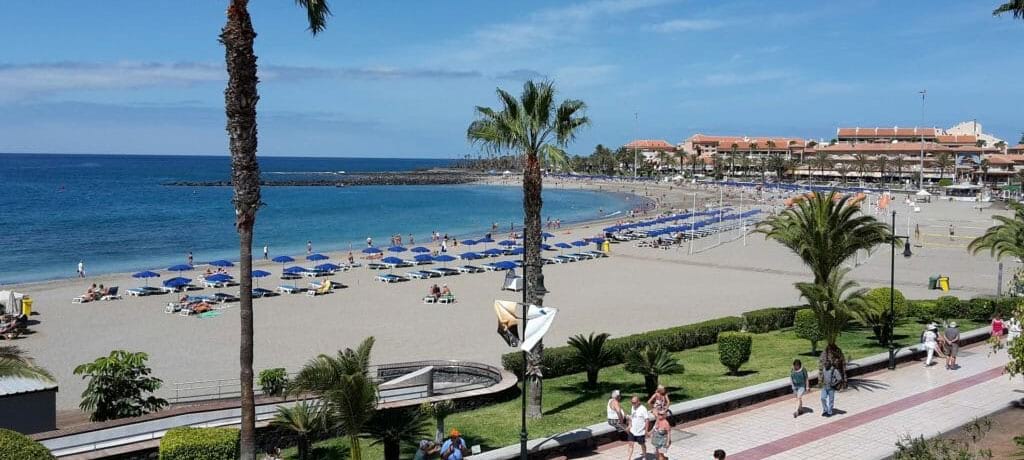 Playa de las Vistas
Size: approx. 1500 metres long
Location: Los Cristianos, 40-minute walk from central Costa Adeje
Beach Type: light gold and sandy
Best For: sunbathing, paddling, water sports
With a rocky fountain right at the centre of this crescent beach, Playa de las Vistas is the number 1 place to visit in Los Cristianos. The beach is sieved every morning to keep it clean and the sand is delightfully soft. It's lifeguard monitored and also has great support for disabled access.
The water here is very calm and crystal clear, perfect for taking the kids paddling… or enjoying some of the light water sports available. There are also a plenty of sunbeds, but you'd best take a towel for sunbathing if you don't feel like paying to use one. Nearby the beach you've got all the amenities you need, including some great Tapas bars!

Playa de Los Cristianos
Size: approx. 1000 metres long
Location: Los Cristianos, 50-minute walk from central Costa Adeje
Beach Type: light gold and sandy
Best For: sunbathing, relaxing, boat watching
A small yet calm and tranquil beach. Much like nearby Playa de las Vistas, you've got very soft, well maintained sand and lifeguards on watch for this beach. But you'll find it's a much calmer atmosphere.
With no ball games allowed on the beach and no water sports available for this particular stretch of Tenerife sand, this beach is favoured by sunbathers who just want to sit back and watch the day go past. There's a good selection of bars and restaurants on the promenade where you can enjoy a sit-down meal and watch the ferries go by the beach.
Prepare for the perfect after-beach activity, a whale watching boat trip, with our FREE Whale Watching Guide. We know it's an experience you don't want to miss out. Click here for the guide.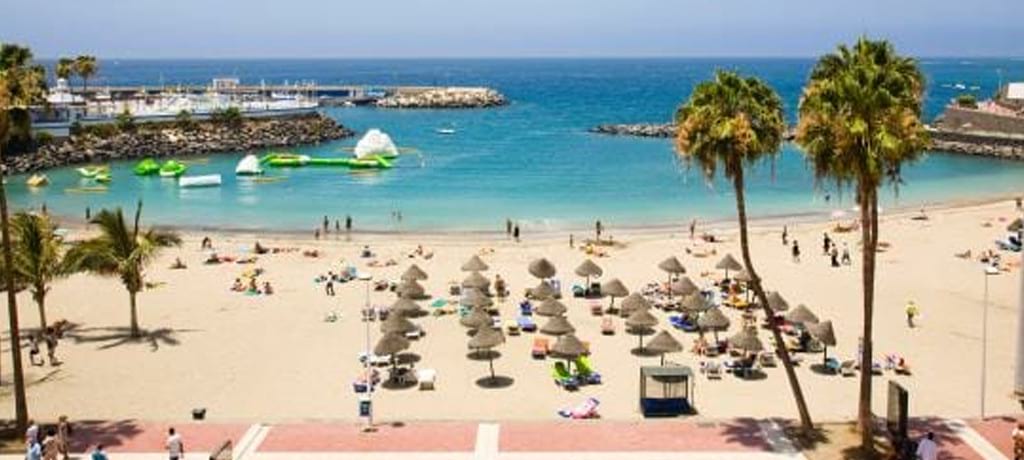 Playa de la Pinta (aka Puerto Colon Beach)
Size: approx. 180 metres
Location: Puerto Colon, central Costa Adeje
Beach Type: light gold and sandy
Best For: families, kids water sports and sunbathing
A very small but beautiful beach located right next to Puerto Colon. Its central location in Costa Adeje means it gets quite busy and the 100-space car park fills up incredibly quick. You're best off walking to this beach and continuing along the coast if it's too busy for your tastes!
The beach has a handful of sunbeds you can pay for, or you can enjoy the huge number of water sports available in this area. In the bay you'll see bouncy castles and slides on the water for the kids, with more adventurous water sports available to book on the beach. There's also a great atmosphere here in the evening when the restaurants and bars come to life!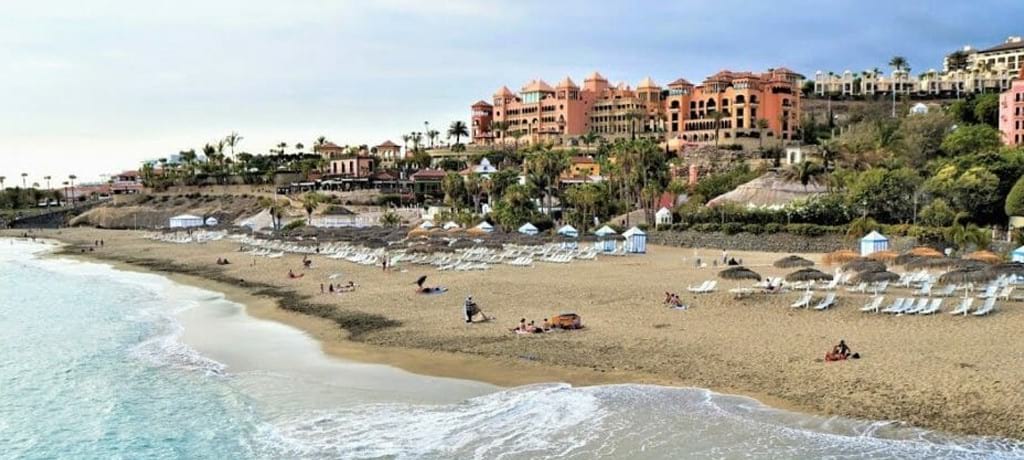 Playa del Duque
Size: approx. 600 metres
Location: North Costa Adeje
Beach Type: golden and sandy
Best For: sunbathing, relaxing and enjoying the lavishness of Costa Adeje
This is one of those beaches you can imagine supermodels sunbathing on. It has a feeling of sophistication with its long stretch of golden sands and luxury sunbeds (get to the beach before 10am to ensure you get one). It's Blue Flag certified and surrounded by 5-star hotels and designer boutiques, for when you get tired of just lying on the sand.
Likewise, the promenade is very beautiful to walk down, especially at sunset when the views over the ocean are spectacular. Toilets are kept clean and remain free, but you'll need to pay a few euros to use one of the showers. Ideal for sunbathing and going for a relaxing dip in the sea.
Continue the fun into the evening and challenge yourself with a unique Treasure Hunt & Da Vinci Code Escape Rooms. Click here for details.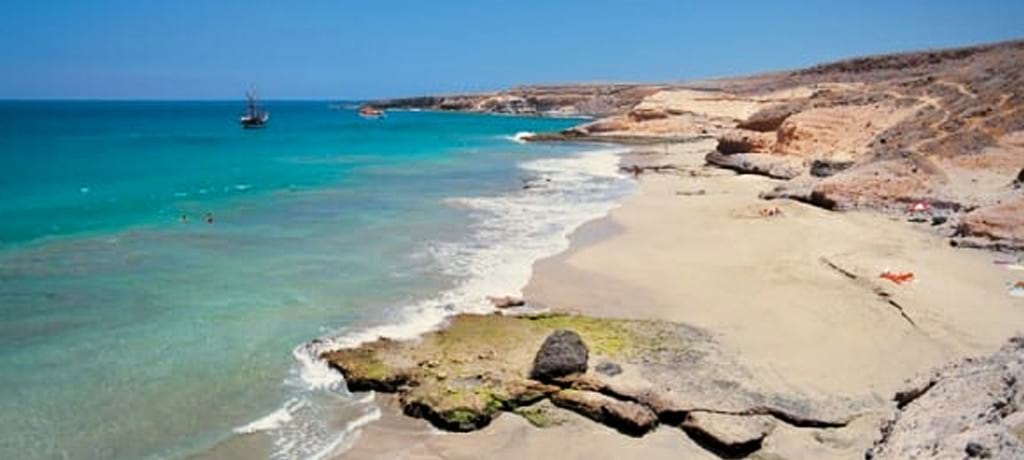 Playa la Caleta
Size: approx. 75 metres long
Location: La Caleta, 50-minute walk from central Costa Adeje
Beach Type: natural golden and sandy
Best For: sunbathe, relax, dog walking
This tiny beach near La Caleta is just a short walk down the rocky edged shores from the quaint fishing village Caleta. This is a natural beach (no imported sands or lifeguards or sunbeds) and is a real treasure if you're looking for a quiet tropical paradise. Enjoy the sound of bongos, take a picnic or walk the dog here – there's no tourism board to stop you.
The waters are crystal-clear with a few small boats bobbing up and down on the gentle waves. You'll need to head back to La Caleta for restaurants and amenities. This is not a beach for those that want comfort and convenience, but a beach that represents Tenerife's natural beauty and relaxing ambience.

Playa de Troya
Size: approx. 200 metres
Beach Type: black and gold sandy
Best For: sunbathing and families
Location: South Costa Adeje, bordering Playa de las Americas
A small but nice beach in South Costa Adeje with a mix of traditional black volcanic sand and imported golden sand. The waves here are kept calm and are perfect for families who want to go for a swim. There are all the amenities you'd expect including toilets and refreshment stands. There's also a surf school here, plus you're really close to Papagayo Beach Club and Banana Garden where you can order smoothies to go.
A short walk away you'll find Subway and McDonalds, if you're looking for a budget meal. If the beach is a bit too busy, walk in the direction of central Costa Adeje and you'll soon stumble on Playa de El Bobo, another great beach! Check out the Playa de Troya live webcam.

Playa de Fañabé
Size: approx. 600 metres
Location: North/central Costa Adeje
Beach Type: white and sandy
Best For: sunbathing and water sports
One of the biggest and most active beaches in Costa Adeje. Stretching along the coast, Playa de Fanabe is lined with sunbeds and offers a plethora of activities from wakeboarding to snorkelling. It's a Blue Flag certified beach with a constant patrol of lifeguards to keep all the beach-goers safe and sound.
The public toilets, showers and frequent beach sifting services keeps this spot a relaxing and clean beach all year round. It gets quite busy but there's so much to do inland if you can't find a spot on the beach. Walking along the promenade with an ice cream from Gelateria Exotica, or shop in the Litoral Playa Fenabe Shopping Centre. A must visit beach for your Costa Adeje holiday.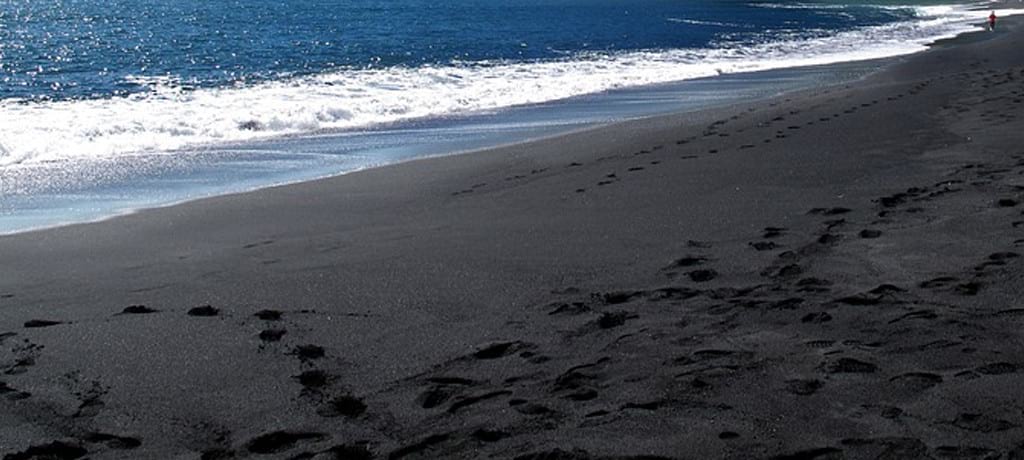 Playa de La Enramada
Size: approx. 325 metres
Location: North Costa Adeje, near La Caleta
Beach Type: black volcanic sand
Best For: sunbathing, families, beach exploring
This is the beach that the locals favour. It's quiet and calming and almost never full. The sand here is coarser and the waves are choppier, but that just adds to the charm. It's a good spot for body boarding and kids that like to explore – there are tonnes of pebbles to look at and natural wildlife to spot. But it's not cut off in the slightest.
There's a fantastic beach bar, C'queluche beach bar, where you can grab a bite to eat and a cocktail right on the beach. A short walk away you'll find the many seafood restaurants of La Caleta for an evening meal. There are bins here for your rubbish, but you'll need to visit a restaurant or hotel nearby to find toilets.