Golfing
Costa Adeje benefits from a full range of golf courses, catering to professionals and amateurs alike. With year-round average temperatures of 23 degrees it is no wonder that golfers flock in their droves to bask in the warm sun and enjoy the luxury experience that golfing in Costa Adeje affords. The weather itself sets Costa Adeje apart from many other locales as it is unlikely you will ever be rained off course and the visibility is clear and crisp.
The beautiful greens are lush and vibrant with plenty of challenges for golfers of all handicaps. Wake up early and enjoy the warm but not overbearing morning sun, work up that appetite before breaking for lunch at one of the many fine restaurants attached to the golf courses. Avoid the heat of the mid-day sun as you sip refreshing, crisp local wine. Then, resume play in the afternoon. One thing is guaranteed, by the evening you will not want to leave the golf course!
Golfing in Costa Adeje is without doubt a luxury experience, the courses work tirelessly to cater for your every need, with excellent course maintenance, high levels of play and fine dining, there is absolutely nothing that you will have to do except try for that elusive hole in one!
One thing is for certain, regardless of your handicap, you will find a pleasurable, inviting and warm golfing experience with stunning sun-drenched views, golf that plays at your pace and the highest quality food and drink. We can think of no better place to test your golfing prowess than the picturesque Costa Adeje. To avoid disappointment always book your golfing days in advance.
Check out our Comprehensive Guide on Activities & Things to Do in Costa Adeje and discover more fun activities.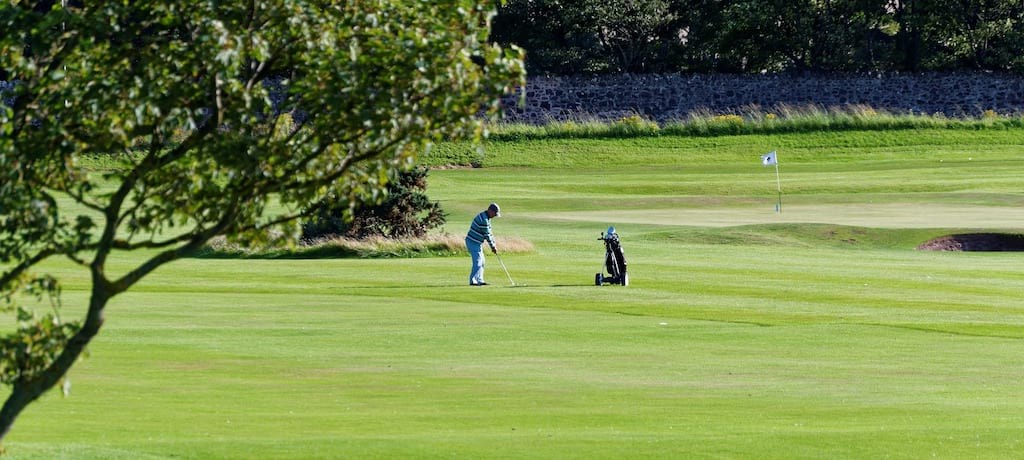 Our Top 6 Golf Courses in Costa Adeje
There is a tremendous variety of golfing options available to you, each with their own unique selling points. We have carefully chosen the courses that will give you the highest golfing satisfaction with various price points on offer to cater to golfers with any budget. If you're a golfer in Costa Adeje you're spoilt for choice, read our reviews and golf course information to find your perfect golfing day in Costa Adeje. Most Costa Adeje golf courses also have a hotel adjoined to the course so for the true golf enthusiast you could even book an entire luxury holiday centred around golf.
1. Buena Vista Golf
Holes: 18
Price Range: €€ / €€€
Onsite Amenities: luxury hotel, restaurant, other sports and leisure activities
Buena Vista Gold has been designed with avid golfers in mind. Framed by the beautiful Costa Adeje coastline it is not a stretch of the imagination to feel as though a mishit might send your ball into the sea. An 18-hole par 72 golf course with excellent facilities and amenities including a luxury 5-star hotel and restaurant to enjoy a leisurely golfing lunch. The course is set in an area of outstanding natural beauty with protected status. Be sure to take in the panoramic views of the coast and mountains as you meander in relaxed fashion around the course.
2. Golf del Sur
Holes: 27
Onsite Amenities: hotel, restaurant, nightclub
Price Range: €€ / €€€
The Golf del Sur is one of Costa Adeje's more prestigious golf courses, having hosted the Tenerife open on numerous occasions. The course is expansive with a large acreage and is located within a short drive of the Tenerife South Airport. The course boasts 27 holes situated among tranquil native scenery such as cacti, lush greens and rocky outcrops. This course is geared more towards the more serious golfers with some holes being particularly challenging. Named in the 2015 Golf World Magazine as one of the top 100 holes in Europe, namely the par 3 hole 2.
3. Golf Costa Adeje
Holes: 18 + 9
Price Range: €€ / €€€
Onsite Amenities: hotel, restaurant
Golf Costa Adeje is another championship standard golf course with a sprawling 18-hole par 72 course and a smaller 9 hole pare 33 course. All of the holes have been carefully crafted to integrate with the natural surroundings and many of the hole's challenges are as a result of this.
Previously the course was used as a banana plantation and the owners have been careful to restore and keep some of the charming original features. This course provides a moderate challenge to professionals whilst being very challenging for amateur golfers. With a big open course exposed to the lovely sunlight and mountains forming a backdrop this course is one of the best in Tenerife.
4. Golf Las Americas
Holes: 18
Price Range: €€ / €€€
Onsite Amenities: hotel, restaurant
A smaller cosier golf course in Costa Adeje, Golf Las Americas boasts a warm, welcoming and inviting atmosphere and provides fantastic golf at any level all year round. Like many of the other golf courses in Costa Adeje, it benefits from plenty of sunshine and has an abundance of greenery and natural features. The course is run meticulously with attention to detail being crucial to maintaining the high golfing standards. A par 72 course with lots of little challenges along the way.
5. Compostela Beach Golf
Holes: 18
Price Range: € / €€
Onsite Amenities: hotel, restaurant
The Compostela forms part of the Golf Las Americas complex and the course above. A relatively inexpensive apartment complex that is ideally located for both golfing and lounging on the beach. If you are looking for a golf resort that provides excellent value and doesn't cost a fortune the Compestela Beach Golf resort is perfect for you. 800 meters from the beach and within walking distance of the Golf Las Americas course, you're spoilt for choice.
6. Abama Golf Resort
Holes: 18
Price Range: €€ / €€€
Onsite Amenities: hotel, restaurants, wellbeing, bar, sports activities
The Abama Golf Resort is for those that like to experience the finer things in life, with a highly acclaimed 18-hole course and Michelin star restaurant this resort is the ultimate luxury golf experience in Costa Adeje. Rise early to take on the 18-hole course, break for a leisurely fine dining lunch and then relax by the pool or pamper yourself with a massage. Don't expect the course to be easy though, it has some very tricky holes along the way, more than enough to work up an appetite throughout your golfing day.