You don't need to be a travel aficionado to realise that Tenerife, Spain is one of the best places to go whale watching. With an astounding number of whale species to spot, beautiful weather all year around, and a whole plethora of whale watching tours on Tenerife, you'd be really missing out if you travel to the Spanish Canary Islands without seeing the whales!
But with a plethora of excursions to choose from comes one huge, overwhelming dilemma. Choosing just 1 of the dozens of tours is no easy task. What boat type should you book? Is food included? Can I find a more luxurious option? Unless you plan on spending hours scrolling through TripAdvisor, it's hard to get a grip on which whale tour is the perfect one for your holiday. And so, the ultimate guide was created. Here you can find everything you need to know and search for the best whale watching Tenerife trip, with helpful resources all in one place.
---
Additional Resources for Whale Watching in Tenerife:
The Best Time of Year For Whale Watching in Tenerife
Where to Go Whale Watching in Tenerife
Learn About the Most Incredible Whale Species in Tenerife
Whale Watching in Tenerife – The Pocket Traveler's Guide (Free Download)
The Best Whale Watching Trip in Tenerife
Whale Watching Private Charters vs. Group Tours
---
Why Tenerife, Spain is an Incredible Place for Whale Watching
The depths of the Pacific Ocean meet the glorious warm weather off the coast of Morocco, creating the perfect spot for whale watching right by the Canary Islands. Forget huddling down from the sea spray in a weathered anorak aboard a chilly expedition from Alaska, Reykjavik or the coast of New England. Whale watching from Tenerife, the main island in the Canary Islands, can be as exciting or luxurious as you desire. One of the reasons Tenerife is considered the best place in the world to see whales and dolphins in the wild is the absolutely beautiful sunshine, blue skies and clear water, all year around.
Gorgeous Weather
The weather in Tenerife is sunny all year round, with temperatures still around 20°C even in the depths of winter. In the summer, the whale watching hot spot Costa Adeje has a 27°C average daily temperature on the mainland. A whale watching trip is a great way to enjoy the sea breeze and glorious sunshine away from the beach crowds. Check our Costa Adeje weather article for a more detailed forecast.
Choose Your Boat for the Perfect Atmosphere
Hop on a sailing boat with your partner for a relaxing trip to sail alongside the dolphins, hire a luxury motorboat for a day of romance, or head off on an adventure with all the family on a viking longship adventure. With so much choice in Tenerife for whale watching tours, you can find a trip that fits the theme of the holiday. Keep reading to see our recommended Tenerife whales trips for each kind of holiday.
So Many Types of Whales in Tenerife!
The pilot whale, the Tenerife whale, is a resident in Canarian waters. Along with bottlenose dolphins, these species ensure that you always have a 99% chance of spotting dolphins and whales. No matter when your Tenerife holiday, there will be the option of whale watching!
The waters around Tenerife are home to some incredible whales. There are over 20 species in total that visit the Tenerife coast around the year, including sperm whales, killer whales and minke whales. Explore all the whales you can spot from Tenerife.
The Most Affordable Whale Watching Trips in the World
First of all, Tenerife can be a very affordable holiday all together, with cheap flights from Europe and budget hotels aplenty for English-speaking tourists. Sightings occur on almost every trip with every operator. Anyone can see the whales around Tenerife, with many tour types for all budgets. Below we'll cover the most affordable way to see the whales on a large catamaran, or you can check out our comparison table to work out the most cost effective way to see the sealife! Whale watching on a private tour is not as pricey as you thought…
You can spot whales all-year-round in Tenerife
The 5 Types of Whale Watching Tours in Tenerife
Picking out the perfect whale watching tour can be tricky as there are so many different options to choose from including specialty options and a full range of boat varieties. Don't worry though, we can give you a digestible insight into each and every wonderful whale watching tour and help you choose your perfect whale watching tour boat.
Sailing Boats
Offering that extra comfort, especially compared to the large catamarans, sailing boat excursions aim to provide a luxury whale and dolphin watching sighting. Better still, they're priced competitively making them tremendous value for money. Say goodbye to the crowds and settle into a cosy and tranquil whale watching experience.
Tenerife.fun specialize in creating memorable and relaxed sailing boat excursions. See whales and dolphins at your own pace and leisure.
The 3-hour tour on private or semi-private 10-person sailing boats is all-inclusive. If you're looking for the full package that turns a simple boat trip into a day trip to remember, you need to consider Tenerife.fun.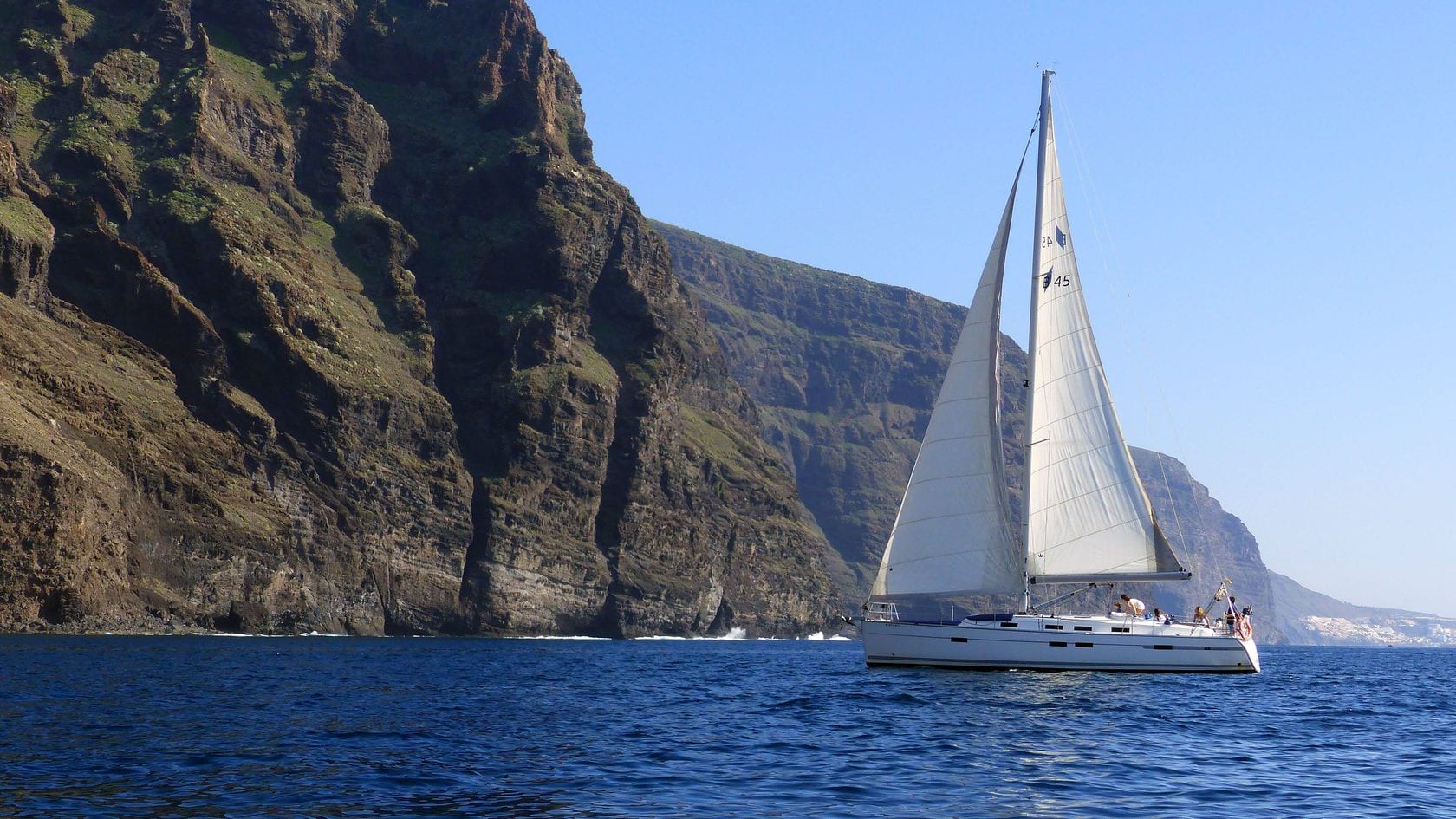 Third Element excursions are a great consideration if you're looking to avoid the hustle and bustle of the large catamarans and want to do a short trip around Los Gigantes.
The trips have a great whale spotting success rate making them popular for those looking to see whales in Los Gigantes. Great food and drink is also available with Third Element.
Large Catamarans
The most accessible option for pretty much everyone. They're the generic option that can swallow up couples and solo travellers in a huge crowd and even make room for those traveling in large groups. These big boats accommodate up to 300 eager whale spotters at a time and offer a cheap alternative. Typically, the prices for a seat aboard a large catamaran are between $20 and $30.
There are draw-backs to the large catamarans though which you should be aware of before you book. On busy trips the catamarans can get very crowded and the food and drink isn't as good as on smaller or specialty vessels. Large catamaran trips also tend to be fast trips that take you quickly to the whale spotting location and then return you right away.
For those looking for something a bit more intimate, relaxed and with better food, you should look at other options below.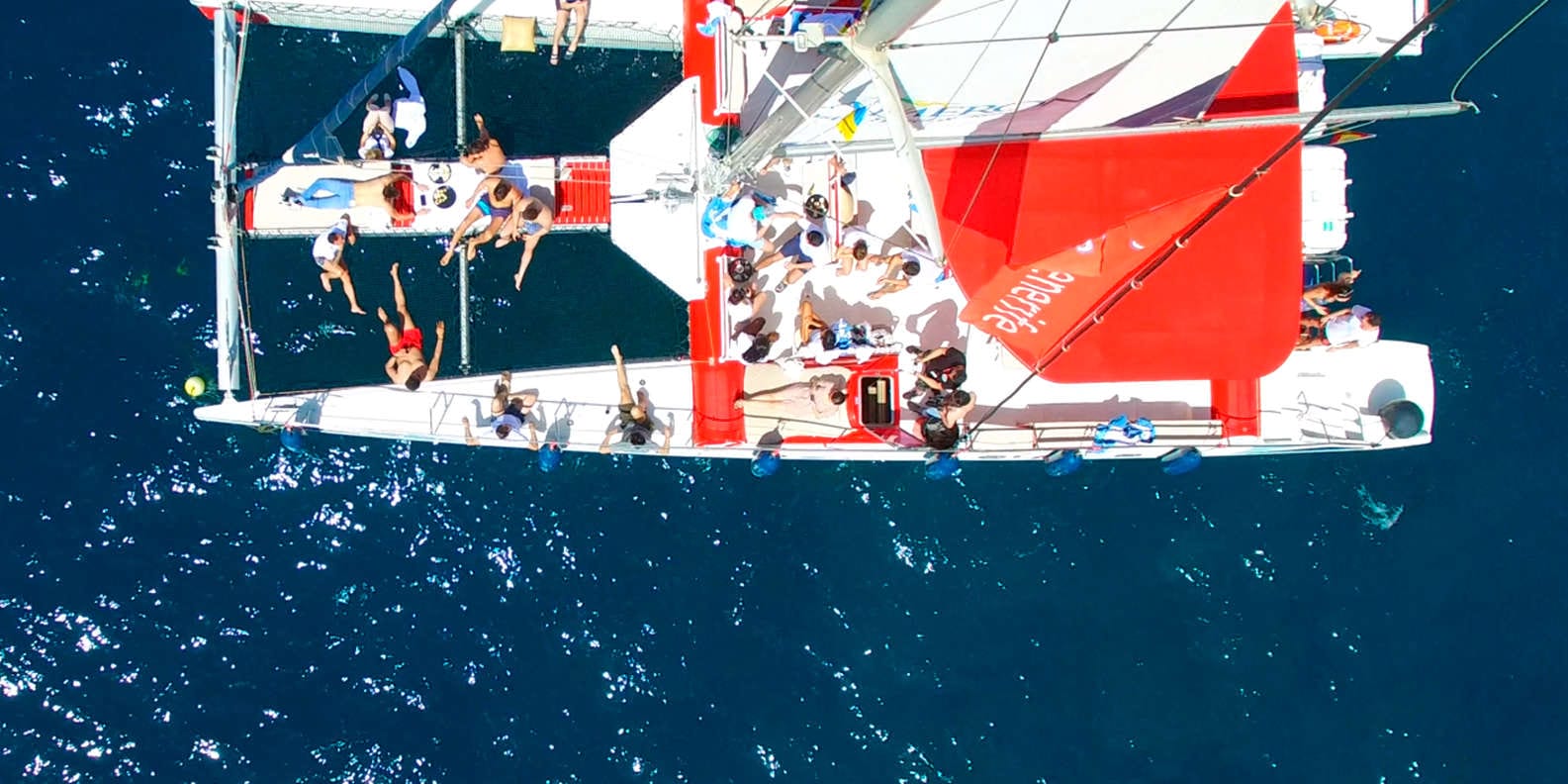 The White Tenerife is a vast and surprisingly elegant looking catamaran that regularly takes hoards of tourists out to see whales and dolphins from Puerto Colon. Passenger capacity is limited to 70 people per trip.
Prices start from as little as $40 but be aware that they don't have a whale and dolphin spotting guarantee.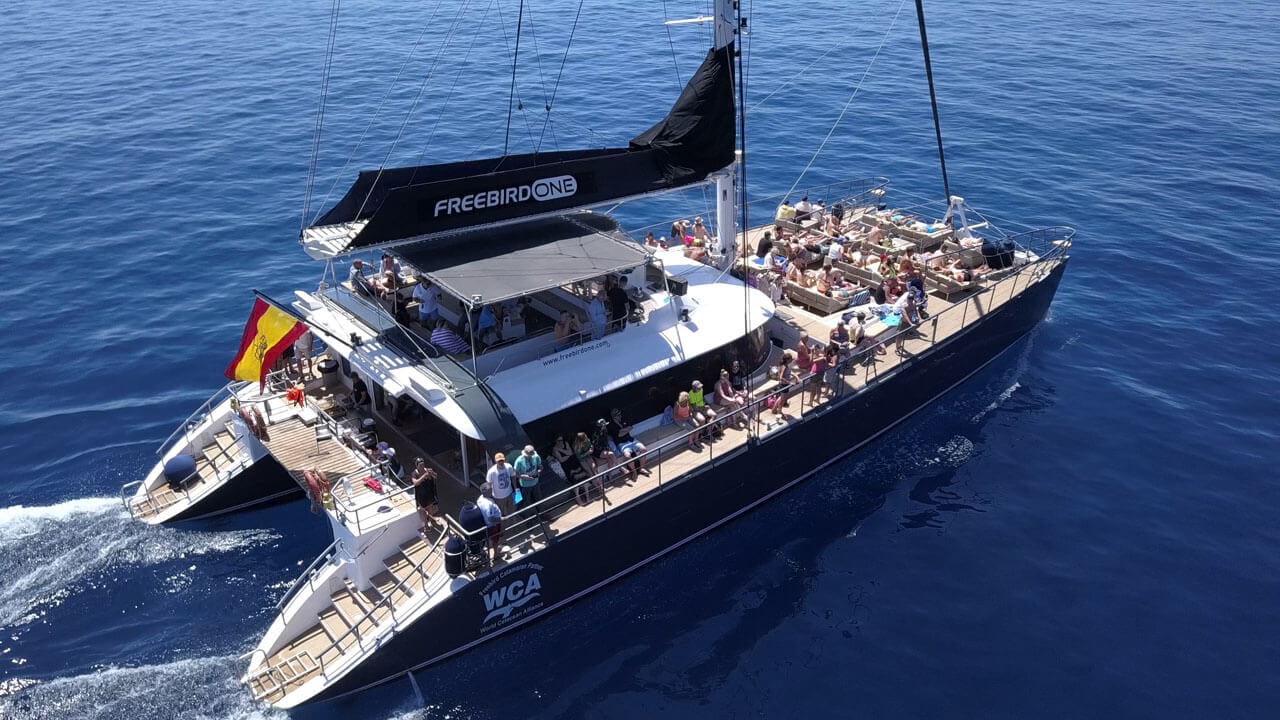 The Freebird catamaran tours offer a dirt cheap large catamaran experience to spot both whales and dolphins off the Tenerife coast. You'll probably have seen their ads all over Tenerife trying to pull you in. They focus more on quantity than quality, so you'll be visiting all the best whale and dolphin spotting locations with quite a busy tourist crowd! Go for this tour with low expectations on comfort and quality to make the most of it.
Speciality Boats
Specialty boats are the best for offering whale watching with a unique twist. These trips are one of the best ways to entice children onto a whale watching tour, if the beauty and majesty of the ocean just isn't enough for them. The entertainment they offer is good but your chances of seeing whales and dolphins, plus the crowds you'll be surrounded by, are not any better than other boat type tours. If you're serious about whale spotting, you may find these specialty tours a bit distracting.
All the tours, from sailing boats to motorboats are perfectly suited to taking kids onboard, so if you can convince the family to take a more comfortable tour without the crowds and noisy entertainment, do it!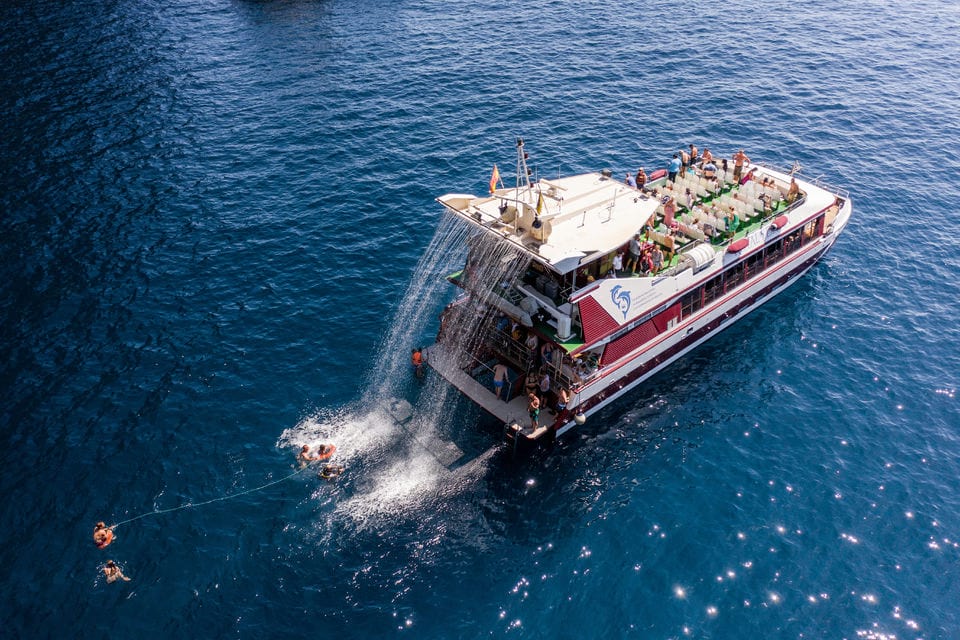 The Royal Delphin offers the opportunity to see whales, dolphins and all manner of sea critters through a glass observation deck. It also has built in marine microphones that capture the clicks, calls and songs of our whale and dolphin friends. Food offered by Royal Delphin is buffet style, and the shortest excursion option does not include food in the ticket price.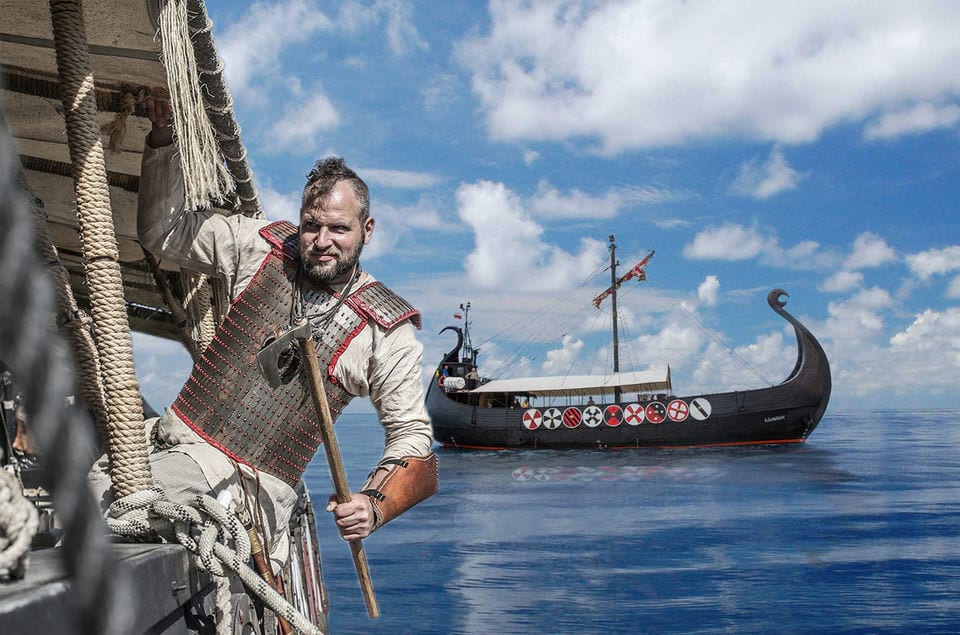 Put on your sea legs and don your Viking attire to set sail for whales and dolphins.
The Viking boat is popular, entertaining and a good way to distract the kids while you experience whale sightings.
Food and unlimited drinks are included, but don't expect the same quality of food and service you'd get on a smaller boat tour.
RIB Boats
RIB boats or R.I.B. (rigid inflatable boats) are a good way to see whales and dolphins in the blink of an eye. Incredibly fast, the RIB boats will get you to the best whale spotting locations in no time at all, allowing you to enjoy watching the whales and then get back to the beach as quickly as possible. The perfect boat type for those that have an action-packed holiday agenda and don't mind the loud motor noise as you're propelled out to sea. Due to the size of the boats, it is highly unlikely there will be food or drink on board.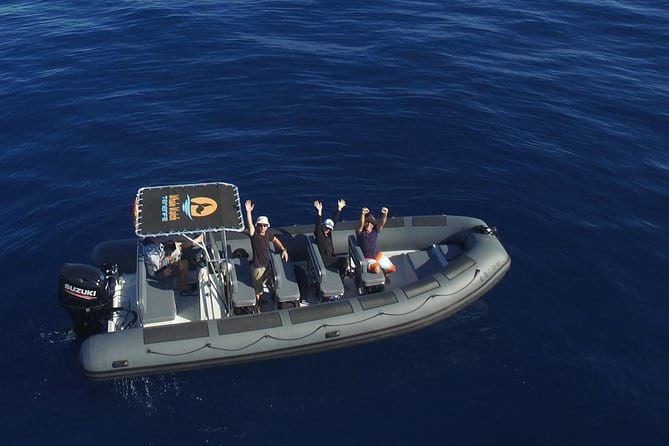 Exhilarating and interesting from start to finish, Whale Watch Tenerife offer tours alongside underwater microphones to hear the whales and dolphins talking.
These boats also only hold a small group of people, but unlike luxury sailing boat options you'll find the ride to a bit too white-knuckle to relax and get to know your tour guide and fellow whale spotters.
Book a Whale Watch Tenerife Trip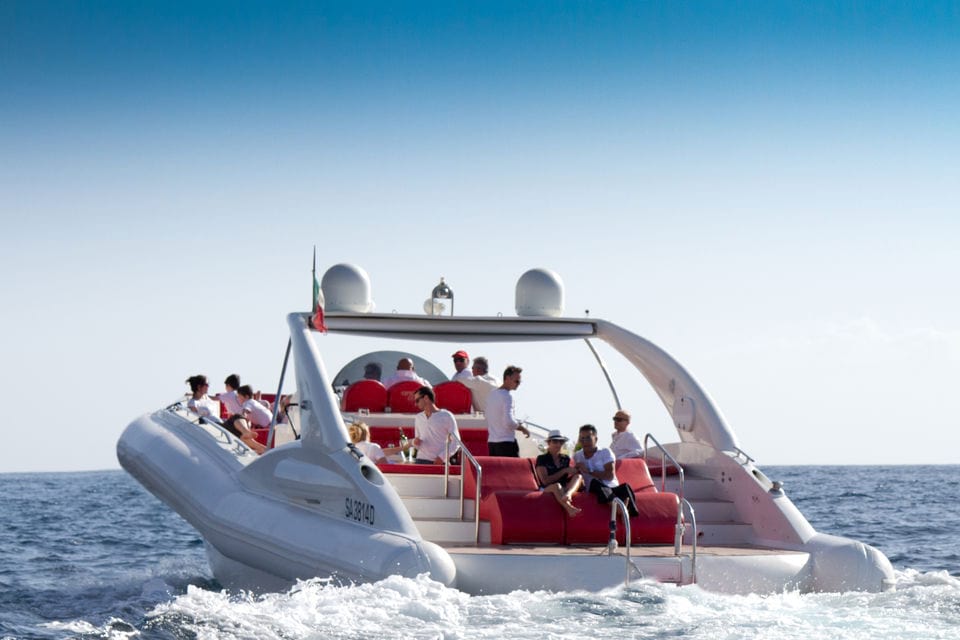 Opera offers snorkelling, adventure, and whale watching galore, all packaged with their adrenaline-pumping RIB boat. Featuring the Opera 60, the worlds biggest rib boat.
This trip perfect for more adventurous travellers who don't mind the rough sea and a bumpy ride.
Their standard 3-hour tour includes unlimited drinks and a great lunch.
Motorboats
Motorboats are best if you want to sacrifice a little of the luxury and trimmings of the most exclusive whale watching packages in Tenerife for more speed! Great for those who want a small taste of the finer things in life but don't want to enjoy the slow, relaxed pace of a sailing boat.
White Dreams (Exmaran) – Charter this Italian-style yacht and indulge yourself on your Tenerife whale watching excursion. Perfect for those with (very) deep pockets who want to spend a good amount on their whale watching trip.
Complete Whale Sighting Tenerife Guide – 17 Species to See!
There is such a diverse pool of sea-life to spot from the waters around Tenerife. Our location is right besides the migratory path of many whale species as they travel up and down the Pacific ocean over the year. The permanent, resident species that you can spot are pilot whales and bottlenose dolphins, with risso dolphins also living in the area and sperm whales living a little further out into the ocean. You have the chance to spot these 4 graceful species and 15 other whale species on your Tenerife whale watching trip.
Read our full guide to Tenerife whales for more information.
Pilot Whales in Tenerife
Chances of Seeing: high, almost guaranteed
High Season: all year
Appearance: black/grey body, 3m to 6m long, short-finned
Diet: squid, octopus, herring, small fish
Pod Size: 10 to 30
Pilot whales watching in Tenerife is practically guaranteed. You'll spot the pilot whales relaxing at the surface of the water during the day after a night hunting, with fins poking out of the water. They tend to be more active in the afternoon or in rougher water.
Tenerife is an amazing place to go whale watching
Humpback Whales in Tenerife
Chances of Seeing: medium
High Season: December to February
Appearance: humped, large body, 13m to 16m long, long pectoral fin
Diet: krill, small fish
Pod Size: 1 to 3
Humpback whales are spectacular to see as they launch themselves out of the water and crash back down. This "breaching" is rare to see on a boat tour as humpback whales pass through Tenerife migratorily, rather than staying in our waters all year round.
Humpback whales are truly remarkable to see
Killer Whales in Tenerife (Orcas)
Chances of Seeing: low
High Season: June to August
Appearance: large and stout, black with white patches, dorsal fin up to 1.8m
Diet: fish and squid (available near Tenerife)
Pod Size: 5 to 6
The beautiful and often deadly killer whales have occasionally reared their heads around Tenerife, most recently in 2018. Their diet varies depending on the environment, so you'll usually see their pods feasting on the plentiful fish and squid in our waters.
Sperm Whale in Tenerife
Chances of Seeing: medium
High Season: March to May
Appearance: dark grey, bulbous forehead, 11m to 20m long, large tail
Diet: giant squid
Pod Size: 6 to 9
Sperm whales live 3 to 5km away from the coastline so you're unlikely to see them on catamaran tours that stick to shallower waters. With approximately 240 living permanently in the deeper waters around Tenerife, you still have a good chance of spotting that distinctive large tail before they dive for giant squid.
Sperm whales visit the waters around Tenerife in spring
Blue Whale in Tenerife
Chances of Seeing: low/specialist boat trip only
High Season: December to February
Appearance: mottled blue-grey body, long and thin, broad triangular flukes
Diet: krill
Pod Size: 1 to 3
Although rare, you can spot blue whales from Tenerife far out into the ocean. You'll spot the elegant, long back of the blue whale and broad triangular flukes of this humongous whale in the winter months, when they migrate down from the Antarctic.
You can even spot blue whales in Tenerife
Dolphin Watching Tenerife
While it's illegal to swim with dolphins in the wild around Tenerife, you'll find they're very playful and love coming up to see you on your whale watching tour – especially the bottlenose dolphin. There are 7 dolphin species you can see on your tour, plus the pilot whale which is technically part of the oceanic dolphin family.
Risso dolphin
Bottlenose dolphin
Fraser's dolphin
Rough-toothed dolphin
Common dolphin
Atlantic spotted dolphin
Striped dolphin
The best way to spend some time with the dolphins is with a private or shared sailing boat tour, rather than a catamaran where you'll be fighting the crowds to get a good view. The Tenerife.fun Silver Whale Watching tour gives you 3 hours to get up-close to these beautiful creatures.
Turtles in Tenerife
You could spot up to 5 different species of turtles around the coast of Tenerife. While you can't snorkel with the Tenerife turtles from your whale watching boat tour (here's why) you still have the chance of spotting them on dedicated snorkeling and kayaking trips. Learn more about the turtles that live in Tenerife.
Here's What to Look for When Booking Whale and Dolphin Watching in Tenerife
As beautiful as our whales are, we need to take care of them! To keep the sealife around Tenerife healthy and happy, we must responsibly take on ethical and eco-friendly values. Respect for the wildlife and their natural habitat will ensure that the whales will always have a sustainable home in Tenerife and will be here for generations to see on whale watching tours in the future. But how do you tell if a whale watching trip is responsible?
Blue Boat Licenses – They Matter!
The Blue Boat license, also called the Barco Azul, is a sign of quality you should look out for. It shows that the boat is reliable and trustworthy for whale and dolphin watching, as it meets the strict standards needed to receive a license from the government. It not only covers the eco-friendliness of the vessel itself, but also the service/trip/route that the tour goes on and how it respects the whales and dolphins you encounter along the way. Getting too close to the whales and dolphins can cause them stress and damage their natural habitat. Always check that a tour provider has the Blue Boat license in Tenerife before booking a trip! Any tour that doesn't have this license is operating whale watching trips illegally.
Book Your Whale Watching Tenerife Smartly
The best whale watching tours in Tenerife will adhere to the Blue Boat license and go beyond. From ensuring the food is excellent, to not over-booking their boats with too many tourists. Here are a few of our top tips to ensure you end up on a great whale watching tour.
Don't book from hotel reception. Some tour companies allow hotels and resellers to take a large portion of the money you pay for your tour, just to be competitive. As the actual tour company receives a smaller portion of the money you paid, they're not able to provide the high quality service you expected. Book directly with the reputable tour companies on our list instead.
Ask questions about the boat. You'll want to know how old it is and that it's Blue Boat licensed, first of all. You also want to know how big the boat is and how many people will be on it. The boat tour you want to choose has the most boat space and the least number of passengers to keep things comfortable and personal.
Plan in advance. Aim to book at least 4 days in advance, preferably a week or so. The best tours are booked 2 to 3 days in advance, stretching to 2 to 3 weeks in the busiest season. You'll also want to find out exactly what's included in the ticket price, so grill the tour operator about complementary food, photos, souvenirs, pick-up and drop-off etc.
Bottom Line: Our Whale Watch Tenerife Recommendations
There are so many types of whale watch excursions, boats, prices and packages that it is little wonder that it can be confusing picking out the perfect whale watching trip for you. Below is a complete overview to help match traveller to tour. Simply pick your main priority and match to your ideal Tenerife whale watching experience.
For a Complete Whale Watching Experience
Tenerife.fun offers the works when it comes to a complete whale and dolphin watching experience. Tours are expertly packaged together to give you everything you expect and more from your whale and dolphin watching experience. It's not just about seeing the whales and dolphins up close (although that's certainly going to be the highlight of your tour) there's also the ambiance and your comfort to consider. These tours offer equal measures of relaxation and excitement aboard a modern and luxurious sailing boat. Your knowledgeable tour guide can help you spot the best marine life and don't forget the gourmet, freshly prepared food and drink you can enjoy on-the-go or when you stop for swimming, sunbathing and snorkelling. After all, the magnificent ocean and always-sunny coastline are the jewel of Tenerife that you'll want to admire thoroughly.
For Trips on The Fastest Boats
For those looking to get to and from the whale watching location in as little time as possible, then RIB boats are your best bet. Great for whale watchers who aren't interested in added frills and luxury touches. It won't be a peaceful journey, but you will feel the buzz of adrenaline from the super fast, bumpy boat ride on your 2-3 hour tour.
For Romantic Boat Trips
Tenerife.fun just knows how to create perfect packages that offer whale watching and all the trimmings. Get up close and personal in an intimate setting, and that is just meeting the whales and dolphins! Perfect for courting couples and those looking to add a little bit of romance to their whale watching trip with a side of champagne. Few whale watching tour companies allow you to completely book out the boat for a private tour, so if you're looking to make your trip extra special you should head straight for luxury sailing boat options.
For the Budget-Conscious
Freebird tours have 4 catamarans that work tirelessly transporting large groups of people to and from the whales and dolphins. They aren't the most glamorous but for those looking for a decent whale watching experience on a budget, Freebird is a tour worth considering. They're dirt cheap. If you're more concerned about getting the most value for each euro you spend, then scroll back up to the Complete Whale Watching Experience and learn about the all-inclusive sailing boat tours.
For Family Entertainment
Jump aboard a Viking longboat with the Ragnarok tour and get imaginative with your friends and family. Circular shields, lots of food and enough drink to drown a sailor… oh and you may spare a bit of time for some whale and dolphin watching too. Don't underestimate the other boat options for keeping kids entertained, however. Avoid the catamarans and take a glance at the sailing boat and motorboat options too. Snorkelling, sunbathing and taking selfies at the helm are available and a little more palatable for tired parents!
For Groups Under 10 People
Tenerife.fun private sailing trips offer the best way to enjoy whale watching with your family or friends without shelling out a fortune on chartering a yacht. These smaller package trips offer all the whale watching fun and adventures of a larger trip but allow you to relax in familiar company too. When you split the cost, these trips also offer exceptional value.
For Groups Over 10 People
Tenerife.fun once more excel when it comes to large parties and groups looking to get in on the whale watching action but without wanting to share the memories with strangers. Hire a large catamaran all to yourselves and split the cost with the Tenerife.fun private catamaran tours. You'll be surprised at how much we can pack into your tour without compromising on the quality and luxury we've become known for.
4 Practical Tips for Whale Watching in Tenerife
Before you set off on your Tenerife whale and dolphin adventure, there are 4 important tips you need to take note of.
Prepare for the Weather!
It's sunny all-year-round. Even in December, you can still get sunburnt in the winter sun. The cool sea spray can trick you into feeling safe, but don't underestimate the strength of the sun's rays. Bring sunscreen and a towel for the sun and sea.
Hold Onto Your Camera
Bringing your camera is a must for photographing the whales and taking beautiful selfies on our sail boats. Keep your phone or camera on a strap around your neck, so it won't get dropped overboard!
Bring Some Cash
On some tours you'll have the option to buy souvenirs, digital and printed photos, postcards and even props for the kids like sailor's hats. And of course, you'll want an ice cream when you get back onto the island. Bring some cash for impromptu buys.
Sea Sickness – It's Real
Tenerife borders the Pacific Ocean. Not a calm lake or gentle sea. It's important to take sea sickness medicine 1 hour before your boat trip, just in case, as the water is rough and choppy. The larger catamaran boats will have less motion compared to a small boat. Buy sea sickness medicine from the many pharmacies around Tenerife.
Other Tenerife Sea Life Trips You'll Love
If the boats are all booked up or you're just eager to get back out to sea, you'll find plenty of other excursions around Costa Adeje. Whatever you choose to do, remember to be respectful to the wildlife and don't forget to have fun.
Tenerife Snorkelling with Turtles
Snorkelling with turtles is one of the most tranquil experiences… but due to a lot of unauthorised tourism in the past, you won't be able to snorkel with the turtles from your whale boat tour. Instead, you'll need to take a kayaking or snorkeling trip. The warm waters around Tenerife make snorkelling a really pleasant experience, but you should take some time before you go to research the turtles. Some turtle species can be several metres long, which is quite intimidating up close. Nonetheless, the turtles are graceful and harmless, you'll also see the subtropical fish while you're there! Book your kayaking trip to see the Tenerife turtles.
Jet Ski Safari
This excursion takes you on a fast-paced tour of the coastline, with opportunities to spot (and overtake) the dolphins. If you like the sound of a boat trip but want to up the adrenaline, a jet ski safari is ideal. You'll book per jet ski and head off with a tour guide who will help you amp up the speed safely. Learn more about Jet Ski Safari trips with Tenerife.fun.